Hi all,
The time has come: FTC is Summit-bound! ✈
We're preparing to board our flight tonight to STC's annual conference. Our attendees are John Clement, Zachary Miller, Caitlyn Hunter, Sarah Vilcnik, and Camilo Pallares. Check out our updated FTC LinkTree, which now lists each of our five attendees' professional profiles at the top of it: https://linktr.ee/ucf.ftc
Our club's LinkTree is also located on our brand new FTC business card! (Shoutout to Zach for the idea and for setting them up!)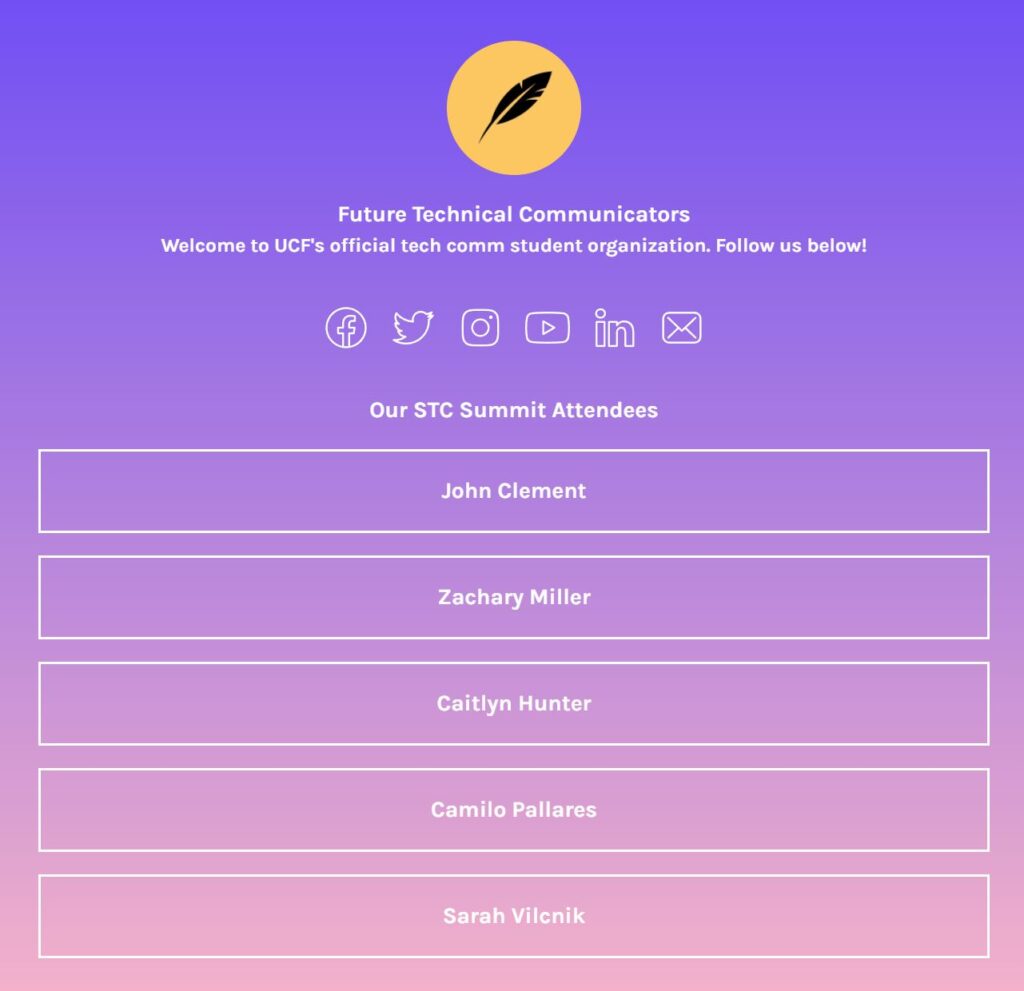 Thanks to the support of each donor over the past few months and to UCF, we're all covered and set to go on the trip. We're 100% funded for our:
✅ Hotel costs
✅ Flight tickets and baggage
✅ Registration (we're each confirmed as volunteers!)
Along the way, though, we did happen to encounter roadblocks. Two of our members had to drop, so our roster went from 7 to 5 attendees. Additionally, very recently our flight got pushed back by a day, so our group will be arriving to the Summit late at night today—a day later than anticipated. Nevertheless, we are expecting things to go smoothly today and to enjoy our time at the main conference events starting this Monday.
If you'll be at the Summit, we hope to see you there! It would be great to meet up. We'll be there from Monday to Thursday, so in between our volunteering we'd be happy to say hi, get to know you, and grab a photo.
All that's left now is to get to Rosemont, Illinois and make the most of the Summit. We'll have updates on our Instagram and Discord during the trip and are looking forward to all we'll get to experience. We plan to share our experiences in additional ways post-Summit, too. As always, feel free to connect with us or reach out to our different platforms at https://linktr.ee/ucf.ftc at any time. Next time we have an update, it'll be by the windy city!
All the best,
John Clement
President, Future Technical Communicators at UCF