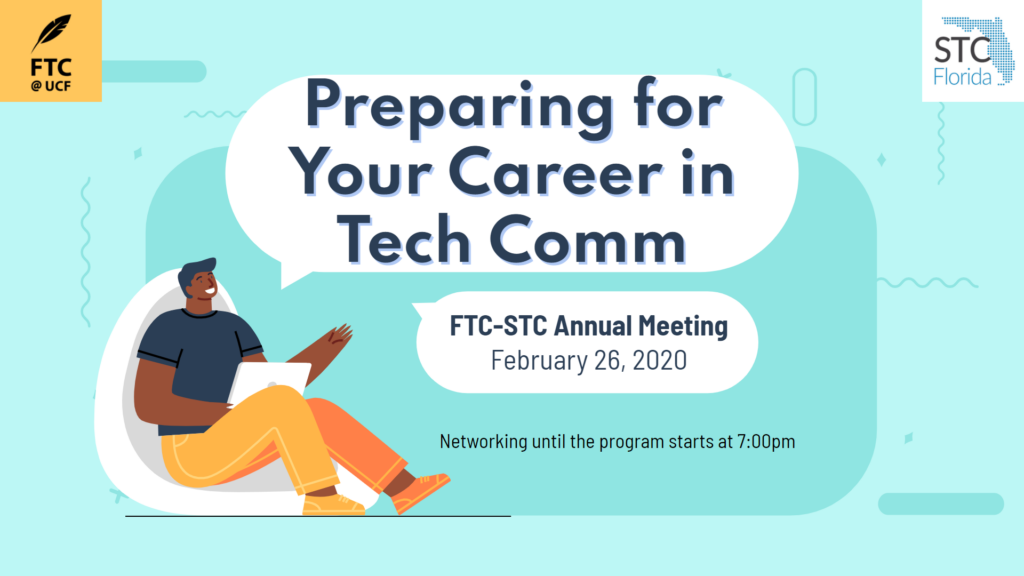 Last night marked another successful annual meeting between FTC and STC. We hope you were able to learn a lot from the program and can find yourself better prepared for a future career in technical communication. I would like to thank everybody for attending, including our amazing presenters, our faculty, our scholarship winners, and all of our attendees.

Feel free to reach out to our presenters with the contact information on their slides. Like we heard from them, networking and making connections are important in the professional world. As promised, the recording of this presentation is available on the FTC YouTube page in case you would like to reference it again. Below are the links to the resources from the program:
Future Technical Communicators
If you are not already a member, please connect with the Future Technical Communicators club at UCF. The club has meetings every other Friday. On the FTC website, you can sign up for the FTC email list so the club can share academic and professional opportunities with you.
You can contact us at 

[email protected]

.
Join the Discord server at invite.gg/futuretechcomm. It is our most active online community and our main place to chat. You'll receive all the latest news and updates there first. It's a great way to stay plugged in with us.
You can find a list of all FTC's different social media channels on Linktree. 
Society for Technical Communication Florida Chapter
Please connect with the STC Florida chapter! Whether you're a student, graduate, or professional, the various opportunities and the welcoming community you will find with them are very worthwhile. You will be glad you joined. If you have any questions or would like to know more about STC, please read about how to join on our website or contact Debra at [email protected]. We are also building an STC Florida Slack for our community that you are welcome to join!Again, we would like to thank you so much for joining us, and we hope to see you again at one of our future events.
Sincerely,

John Clement
President, Future Technical Communicators