By John Clement
President, Future Technical Communicators club at UCF
With a plethora of guest speaker meetings and networking events, the Future Technical Communicators club has been as active as it has ever been this past school year. We also had opportunities to make FTC go beyond just UCF in our ventures to Otronicon Tech Expo and the STC Summit, two big initiatives that our attendees had a great and informative time at. Finally, our club continues to be a big family with our social events and our active Discord. To celebrate and recognize all that and more, here is a comprehensive recap of FTC's 2021-2022 program year.
FTC Meetings in 2021-2022
All our meeting recordings can be found on the FTC YouTube channel. Pictures and other posts can be found on our Instagram and LinkedIn pages.
Technical communication professionals, FTC alumni from through the years, and STC members alike were all part of the FTC experience this school year. Additionally, events like our game nights and book sales led to a lot of fun, community engagement, and good conversations.
In the Fall semester, we had meetings every other week. It was also our first semester back on campus, and while we have kept our programming online, it let us start experimenting with occasional in person events again. Highlights from Fall include the launch of our annual Mentoring Program, workshops on the Adobe Creative Cloud and WordPress by two of our student leaders, and our Halloween Game Nights.
FALL 2021
First Fall GBM
Elections
FTC Game Night Social
Mentoring Program Interest Meeting
Adobe Creative Cloud Workshop with Caitlyn Hunter
Halloween Game Night (Online)
Halloween Party (In-Person)
WordPress Workshop with Ben Bowles
Fall Wrap-Up Meeting
December Dungeons & Dragons Session
In the Spring semester, we picked up the pace and began having meetings each week. We had many ideas for topics we wanted to bring to our members, and in the process we both reached out and were reached out to by many professionals who could lend their time to guest speak for us. Special thanks goes to John Paz for his speaker series and bringing in colleagues as well; the L3Harris IPS team; our FTC alumni from over the years; and professional technical writers including Diane Hogan and Eva Miranda. Thanks to their presentations, this semester's programs were full of substance.
SPRING 2022
First Spring GBM
Tabling at Memory Mall
Technical Writing Q&A ft. John Paz
January Discussion GBM
Technical Writing at L3Harris ft. Integrated Product Support Team
Resume Design ft. John Paz
STC Summit Interest Meeting
Otronicon Tech Expo @ the Orlando Science Center
STC-FTC Joint Meeting: Where are they now? ft. Past FTC Leaders
Jackbox Game Night with Sigma Tau Delta
Getting Your First Job in Tech Writing – Panel Presentation ft. John Paz and co.
Introduction to MadCap Flare and Word Styles ft. Diane Hogan
April Fools Game Night
Year in Review GBM
LinkedIn Workshop: What in the World is Networking? ft. Eva Miranda
Book Sale Fundraisers with Sigma Tau Delta
FTC Reunion Social
FTC Leadership Interest Meeting
STC Technical Communication Summit @ Rosemont, Illinois
Beyond Meetings: Additional Programs in 2021-2022
Beyond our general body meetings, FTC has been able to offer an array of new and returning programs. This includes the continuation of our mentoring program (with one of our biggest mentee groups yet!), volunteering at Otronicon Tech Expo, traveling to the STC Summit, designing and distributing FTC t-shirts, and producing publications for our website's recently-established blog.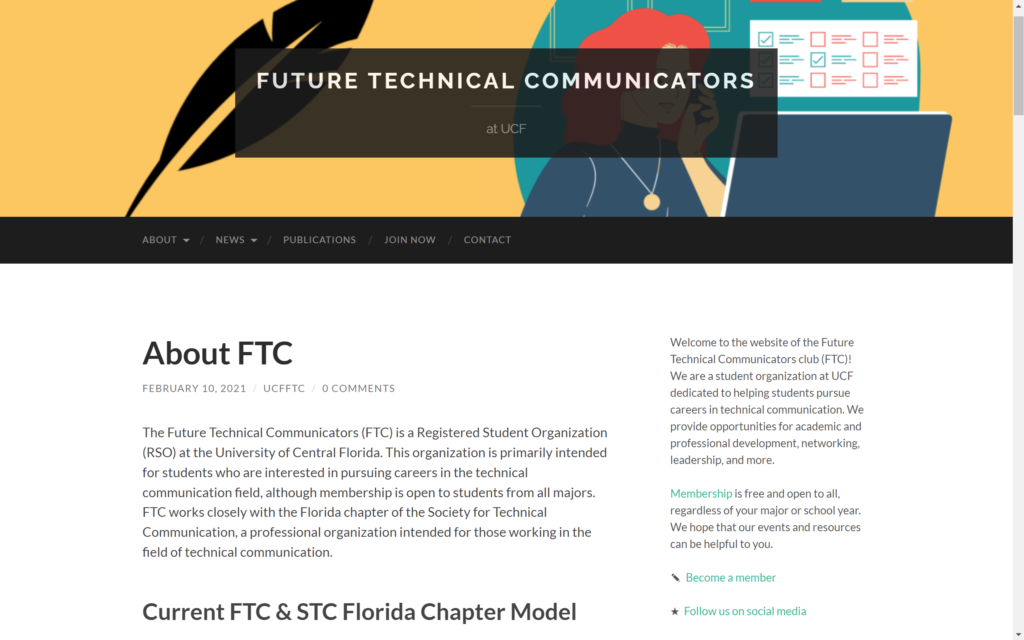 FTC Publications
What's new in FTC? Look no further than our community's newest publications! Our members have been submitting great articles to FTC and STC this year and continue to. They touch upon about a variety of interesting subjects including our club's community updates and analyses of topics in the technical communication field. Our publications can be found on FTC's website blog and some on STC Florida's Memo to Members newsletter as well. Here is a list of all of them:
Additionally, our club sent out monthly newsletters to keep our members and all who were interested up to date on the club's happenings. Our newsletters are archived here on our website.
---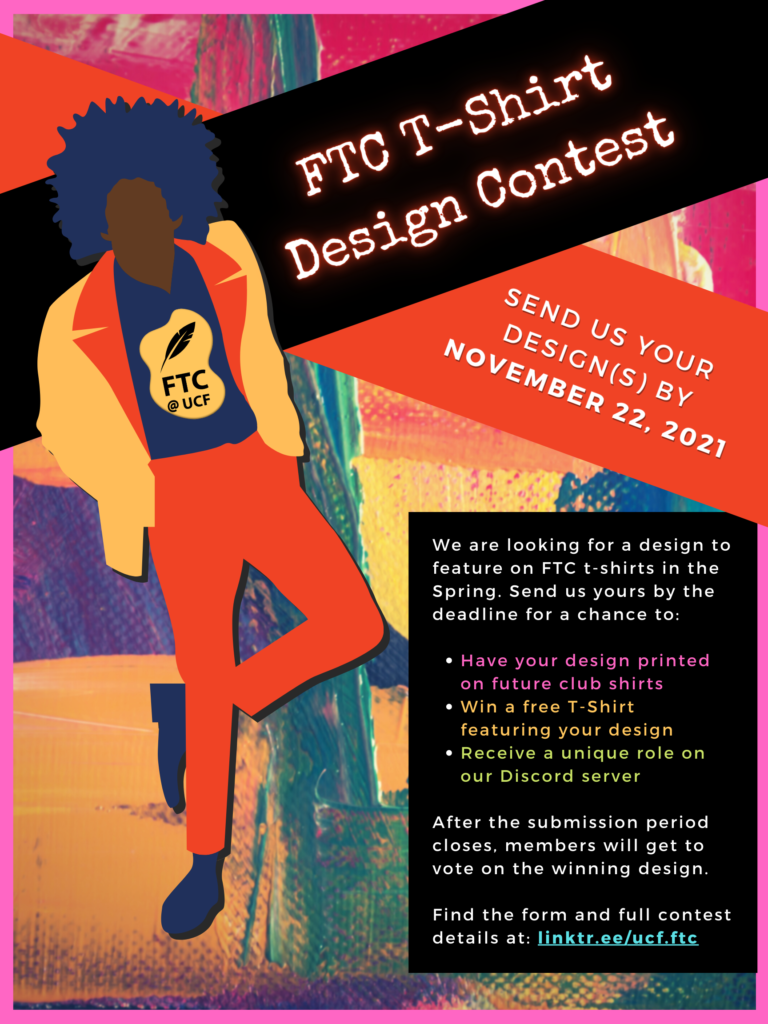 FTC T-Shirts
In October, FTC launched its very first FTC T-Shirt Design Contest. Running throughout the rest of the Fall semester, the club called on its members to submit their ideas for a future FTC T-Shirt which would be voted on over Winter Break. The creative winning design comes from recent grad Cora Heisler! Through the first half of Spring, the FTC leadership team worked to get the design up on a shirt and ready to order, and 12 shirts were sent out to interested members by the end of the semester. Here are the great members who bought an FTC T-Shirt of their own:
Ben Bowles
John Clement
Julie Diaz
Dr. Carolyn Glasshoff
Cora Heisler
Janet Jaimes
Nicole Lindquist
Cassandra Ortega
Ann Marie Shrader
Amy Toole
Sarah Vilcnik
James Yunik
We love seeing everyone wear them and show off their love for "technically" communicating. FTC is glad to have been able to make this initiative happen!
---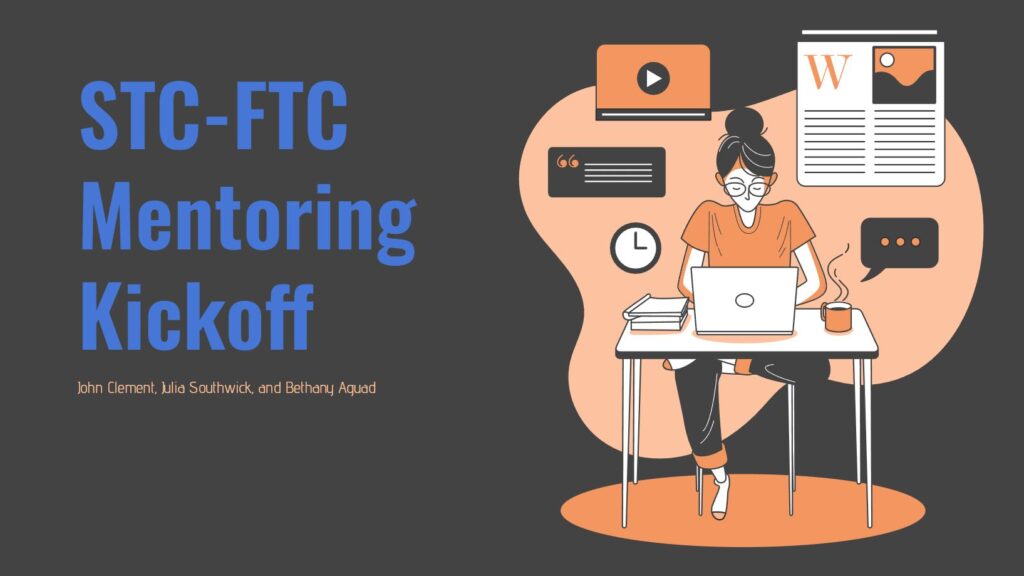 STC-FTC Mentoring Program
This school year, there was a great amount of interest in the STC-FTC mentoring program, so much so that there were more mentee applications than there were currently available mentors from the Florida Chapter! Therefore, we had to split our mentee pool into two groups: Group A and Group B.
Our first group launched in Fall 2021 pairing our first half of mentees with our available mentors. From there, we launched outreach initiatives to secure more mentors for our mentees on standby. We expanded our range from the chapter to STC and its communities at the national level. Thankfully, our efforts were worth it, and over the Spring semester we gathered five additional mentors for our students, making the last pairings up until May. In the time where mentees were waiting, there were also interim mentoring sessions hosted by our program coordinators as a way to give group assistance to any prospective mentees who wanted advice but did not yet have their own individual mentor.
GROUP A (Fall 2021)
Mentors
Mentees
Diane B. Hogan
Joana Donovan
WC Wiese (2)
Yehowshua Leonard
Samantha Walker
Lori R Meyer
Janet Jaimes
Brittney Cooke
Caitlyn Hunter
Dan Voss
Jyazee Daryaei
GROUP B (Spring 2022)
Mentors
Mentees
Lara Tellis
Julie Diaz
Rachel Eichen (2)
Luis Romero-Olivero
Cassandra Ortega
Joe Ryan (2)
Nicole Lindquist
Amy Toole
Maria Rehman
Sierrah Martin
Rachael Swertfeger
Kirsten Bey
I would like to thank each of our program coordinators for their efforts with this year's mentoring program including Julia Southwick, Jessica Nealon, and Bethany Aguad. Whether it was by helping make pairs and set up meetings, bringing support and enthusiasm, or laying the groundwork for great virtual mentoring program in the first place, each was instrumental to the process. It is great to have so many of UCF's Future Technical Communicators get involved in mentoring—a connection that is so valuable when preparing for a career and beyond. Additionally, thank you to each of our mentors who stepped up to take on a mentee or mentees. Your time and dedication is greatly appreciated! Below is a list of all our mentor-mentee pairings this program year.
---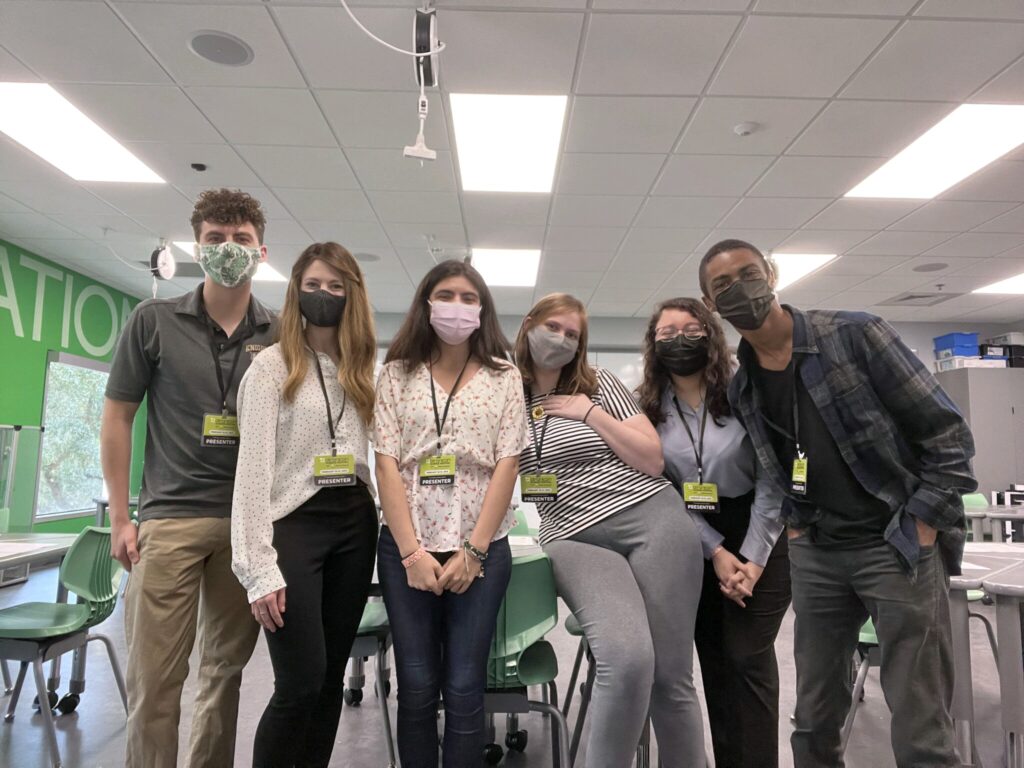 Volunteering at Otronicon Tech Expo
Otronicon is the Orlando Science Center's annual technology exposition. The expo attracts grade school students and college students alike and is aimed at showcasing topics in STEM in interesting and interactive ways. Last year the Future Technical Communicators club was invited to participate online and delivered a virtual presentation on the basics of technical communication and its importance to STEM fields. This February, the expo was in person, and we were invited again to deliver a workshop. We accepted, assembled a team of FTC members to volunteer, and got to work!
Workshop presenters:
Zachary Miller
Caitlyn Hunter
John Clement
Amy Toole
Janet Jaimes
Cassandra Ortega
This time, we made a new presentation that was even more creative and informative: "Knight's Declassified Career Survival Guide." The first half of our workshop was a detailed overview of what technical communication is and career prep tactics. For the second half, we created an original play following a medieval adventurer attempting to get hired as a knight in his kingdom; in doing so, we tied in the fundamentals of technical communication and career readiness skills, all while having fun with each other and the students our session's attendees.
We had a great time collaborating on these efforts and are grateful for the opportunity to attend and present at the expo. We hope to have FTC return next year!
---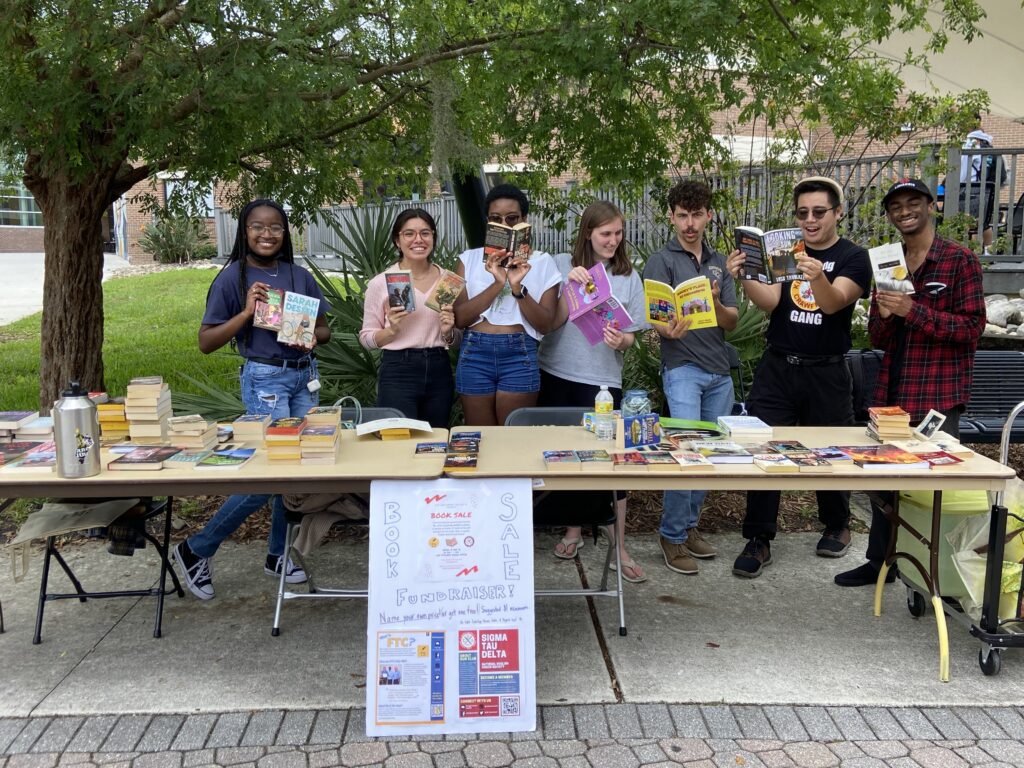 Book Sale Fundraiser with Sigma Tau Delta
In April, our club ran a two-day book sale outside the UCF Student Union in partnership with Sigma Tau Delta, UCF's English Honor Society. All sales were donation-based and visitors could name their own price for books. Our volunteers had the chance to hand out books and receive donations from lots of people, and we had some fun interactions as well.
Between all the sales on both days, our total funds raised came to $346.99! The funds were ultimately split between our two clubs, with FTC's half going towards funding our STC Summit trip and Sigma Tau Delta putting its half toward a charity of its choice.
All in all, the book sale was a great success. Thanks again to each of our volunteers, donors, and visitors for your time, generosity, and positivity. This is something both of our clubs look forward to doing again in the future.
---
STC Summit Trip and Fundraisers
This year's STC Summit, the annual conference held by the Society for Technical Communication, was held in person again after two years of being online. In past years, FTC has had several groups of members take trips to the Summit, but we have not been able to attend in recent years for a few reasons including securing funding. However, this year provided the opportunity to start the initiative anew and get the full experience.
Leading up to early in the Spring semester, FTC assembled a group of interested members who wanted to attend the Summit. In these efforts we held an interest meeting with Erin Gallallee, STC's Director of Membership & Community Relations, and Kylie Jacobsen, manager of this year's Summit volunteers, where each provided students with info about the Summit and answered questions.
With our list of students gathered and our ambitions high, we pursued and successfully received some funding from UCF to go toward the trip. It covered most of the travel costs, and while it wasn't everything, it made the trip a possibility. We set up an online fundraiser through GoFundMe, and immediately, the response and generosity was incredible. Supporters from STC, alumni and members from FTC, friends, and family all pitched in to help us reach and even exceed our funding goal. Our group was ecstatic. To cap off our fundraising and secure the last bit we needed to go on the trip fully funded, we partnered with UCF's Sigma Tau Delta English Honor Society and raised additional funds through a book sale. Along the way there were some roadblocks, but finally, we were good to go and experience an amazing and invaluable trip representing UCF and STC Florida.
All in all, the STC Summit was a great success! Our five group members—John Clement, Caitlyn Hunter, Zachary Miller, Camilo Pallares, and Sarah Vilcnik—found the trip to be well worth it and an unforgettable time. Together on our four-day trip in Rosemont, IL in May, we had the opportunity to meet many talented technical communicators in STC. Each of us volunteered throughout the conference, and we each were able to learn a lot from the various presentations we attended, making valuable professional connections along the way. We each look forward to attending next year's Summit in Atlanta, GA and to bring back what we learned to FTC and STC Florida.
---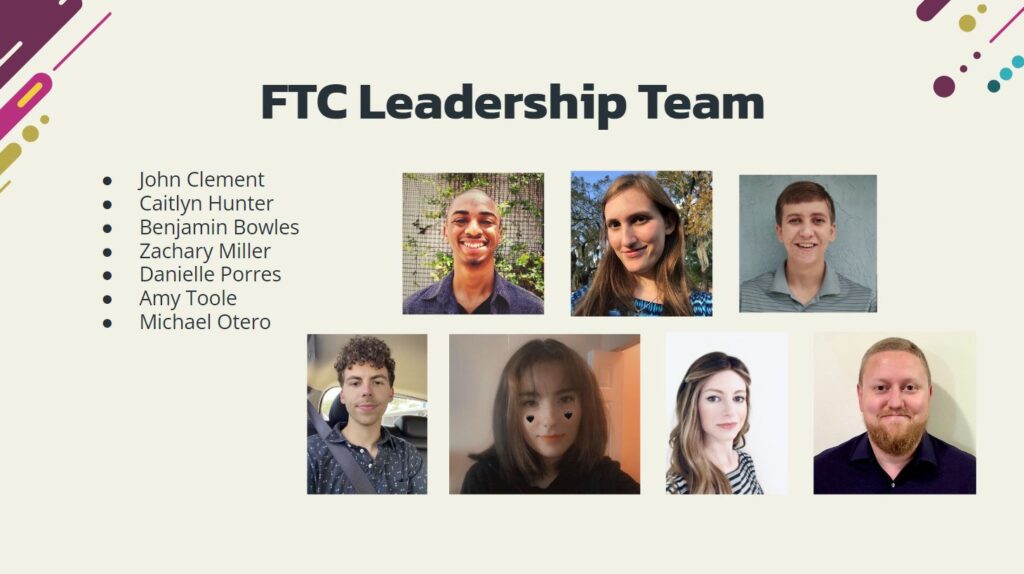 Thank You to the FTC Leadership Team
FTC's meetings and programs this school year would not have been possible or as fruitful without the help of its leadership team. The time, dedication, passion, and enthusiasm they bring make the work we do successful and a great time doing. Our leaders this year have been:
John Clement (President)
Caitlyn Hunter (Vice President, Communications Committee Chair)
Benjamin Bowles (Treasurer, Website Committee Chair)
Zachary Miller (Historian, Publications Committee)
Danielle Porres (Secretary, Publications Committee)
Amy Toole (Website Committee)
Michael Otero (Communications Committee)
I like to think that leaders can also be seen as a group's most engaged members, and that holds true for this team. A few of us will be graduating soon or already have including Caitlyn and I this Spring, Amy in Summer, and Zach in Fall. Nevertheless, we already have a few members who are interested in stepping up to leadership, and we are all excited to see where they place themselves and where the club will go moving forward.
FTC Community Spotlights: Grads, Accomplishments, Memories, and Encouragement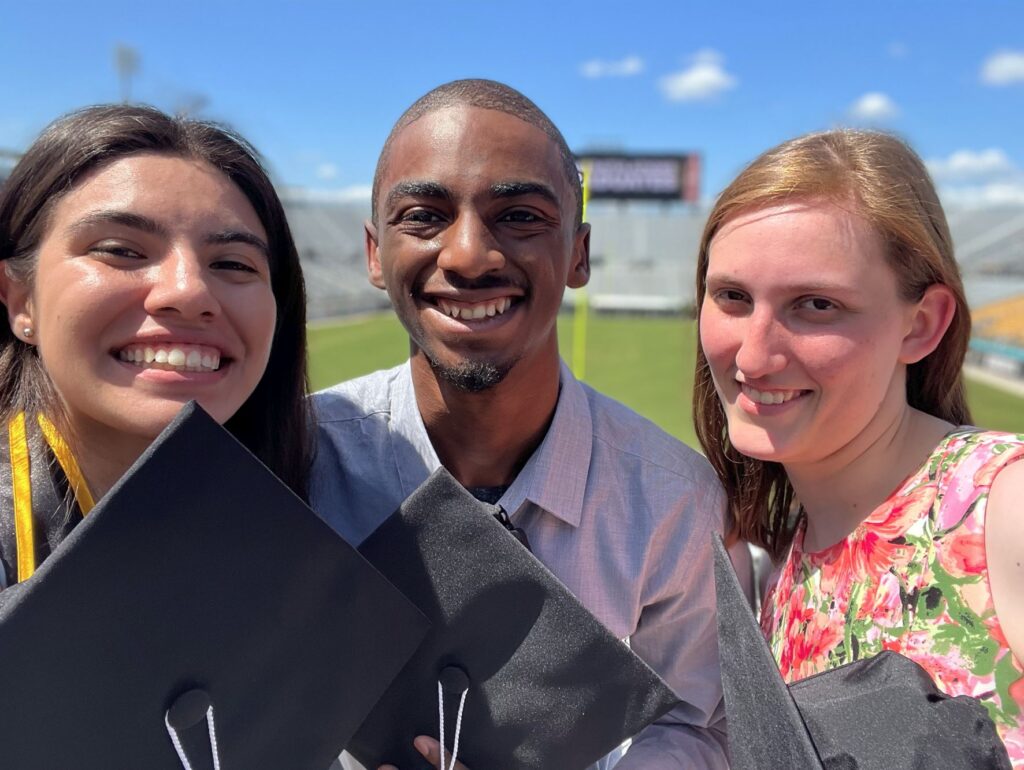 Graduating Members
Congratulations to each of you for making it through the semester, and a special shoutout goes to each of our newly graduated members! You have accomplished so much to reach this goal. Your futures are bright, and always know that the FTC has community has your support—even as alumni. We have some students graduating this summer, too, and to you we express the same encouragement and are excited to see you reach the finish line soon!
John Clement
Jyazee Daryaei
Joana Donovan
Shaelyn Drost
Janet Jaimes
Caitlyn Hunter
Nicole Lindquist
Kristine Nguyen
Jesslyn Parrish
Amy Toole
Danielle Trenholm
Ryann Valmonte
Leslie Vernon
Sarah Vilcnik
Linda Vu
Samantha Walker
---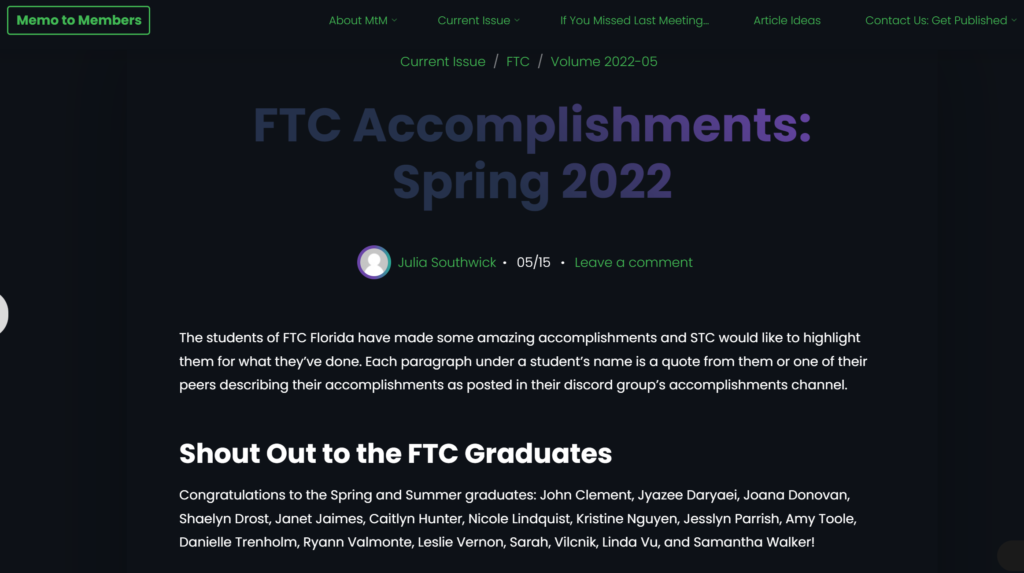 FTC Member Accomplishments – Spring 2022
New graduates, new professionals, English Department award winners, scholarship recipients—between all this and more, the students of FTC have made some amazing accomplishments over the past few months. Julia Southwick, editor of STC Florida's Memo to Members newsletter, compiled a list of accomplishments that were sent her way and posted by you on our Discord's accomplishments channel. Congratulations on your accomplishments, and let's celebrate them together!
http://memotomembers.stc-orlando.org/?p=4304
---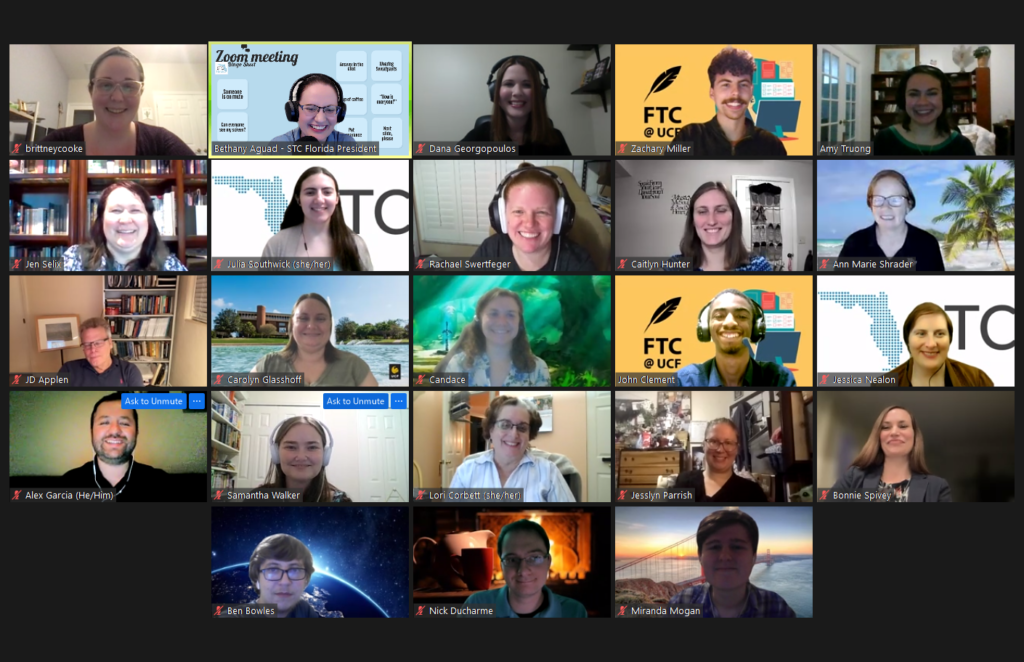 FTC Memories
Shared by our grads and alumni at FTC's end-of-year Reunion Social (recording link, slides link), these are some of our community members' favorite moments from their times in FTC and STC.
Alex Garcia: The 2006 Conference in Las Vegas, staying at the Excalibur.
Bethany Aguad: While I was at UCF, I worked for months with my mentor Dan Voss on writing a chapter in an engineering textbook. Getting to sign each other's copies of the books was very rewarding!
Rachael Swertfeger: I enjoyed networking and meeting other interested writers and in STC meeting professionals in the field.
Joana Donovan: I recently won the 2022 STC Student Scholarship.
Nicole Lindquist: I really appreciated the meetings, presentations, and resource access of FTC/STC. Also, all of the zoom-present pets.
Janet Jaimes: My favorite experience has been being part of FTC this year. I have met a lot of great people who I am glad to have created wonderful memories with.
Sarah Vilcnik: Joining the FTC discord was the best decision I made, I won't wish I did it sooner. Some of my favorite moments are people commenting their surprise that John is still up and messaging after 1am.
Caitlyn Hunter: Otronicon at the Orlando Science Center. Brainstorming for our presentation and then getting to go and hang out with our team was such a great experience.
Amy Toole: Otronicon! Talking with students and their parents about working in tech comm was such a rewarding experience. It was so fun to meet fellow FTC-ers in person and explore the amazing Orlando Science Center. As an online student who lives outside of Orlando, I'm very glad I was able to participate in person at an FTC event before graduating.
John Clement: It would have to be Otronicon! It was an unforgettable time being able to teach younger students about tech comm alongside a great team and great friends. Performing our play and exploring the Orlando Science Center made it all the more fun.
Kurt Ramos: The book sales!
Candace Du Lac: Mentorship program. Also, I think we had something like a murder mystery event once that was fun.
Brittney Cooke: Our gaming events! Specifically playing the commodities game for OATS!
James Yunik: FTC game nights!
---
Words of Encouragement
Lastly, FTC alumni, STC members, and peers had these words of encouragement to share with our graduating members for FTC's Reunion Social.
Rachael Swertfeger: Don't be afraid of taking a risk. You might get a job and hate it, but you'll get experience and understanding of what you like/don't like so it's never a failed experience.
Brittney Cooke: Dream big. Never settle. Be confident!
Joana Donovan: Every experience is a learning experience. Always focus on the good and learn from the bad.
James Yunik: Keep on swimming!
Kurt Ramos: You are all going to make it! Always remember that the universe is conspiring in your favor.
Bethany Aguad: You will be surprised how much you will learn in your first years on the job!
Alex Garcia: The connections I've made through the Florida Chapter STC have been very valuable. It's always who you know that helps you gain that next position. I would encourage you to continue your involvement with the Chapter after graduation.
Candace Du Lac: You made it! Celebrate and enjoy! Don't get wrapped up in accomplishments or the next big thing. There is joy to be found in every day, wherever you are in your journey. There will always only be one of you, so take care of yourself–body, soul, and spirit. Congrats!
Lori Meyer: Congratulations to all of you on this amazing day in your lives. Now, the wider world will begin to benefit from all of your hard work and commitment, the skills you've built, and the insights you've gained. Although your professional lives might be starting in a world that can appear frightening in many ways, filled with what might feel like insurmountable challenges — you have the opportunity to make a positive difference. You are the most technically literate generation on earth. That literacy, combined with compassion, empathy, and an abiding focus on seeing the good and moving toward the light, will make your presence in this world a gift to future generations. You WILL make a difference! I wish you the best in everything! With warm regards, Lori Meyer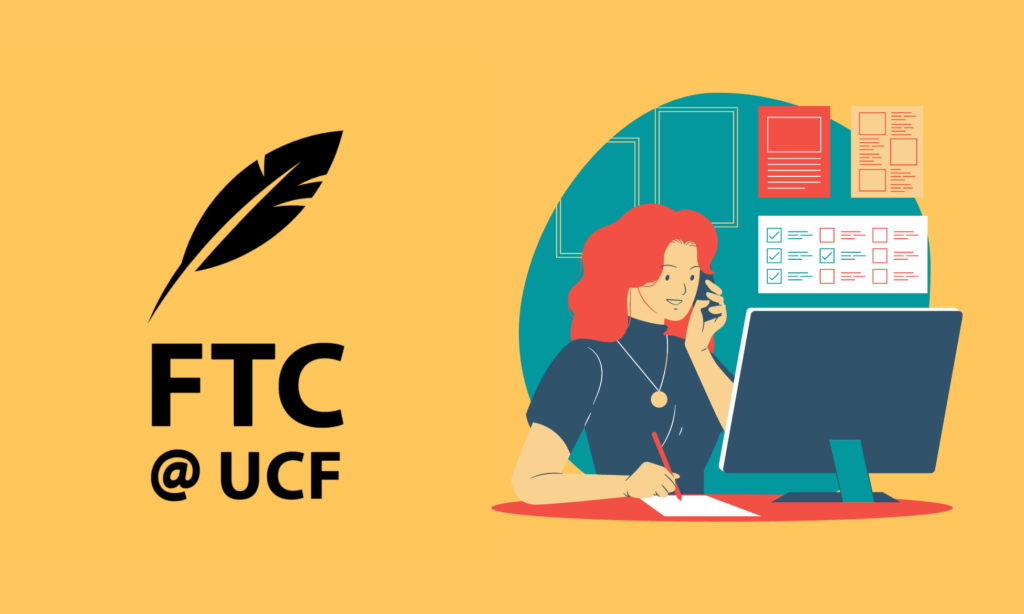 What's next for FTC?
For summer, we are slowing things down, and our regular events will return in full swing once the Fall semester starts. However, we do have a few tentative plans for this summer including ways to stay connected, stay sharp, and have fun as a club, including socials and a couple of virtual workshops.
As we prepare for the next school year and beyond, FTC has set up an End-of-Year Survey. It is up now and we will be collecting responses throughout the summer, aiming to have most in by the end of the month. There are fields to share what members' favorite events were, provide suggestions for the club, and share ideas for future meetings. If you would like to take it, you can now by clicking here: https://forms.gle/RH2fGdd1DQ8kLCWXA.
It has been a great year, and we hope that all we have done as a community helps the club and our members grow for a long time to come.
If you would like to connect with FTC or contact us, you can follow us on our various platforms located on our LinkTree, email us at [email protected], or join our Discord community.